Serving Cherry Creek and Denver, Colorado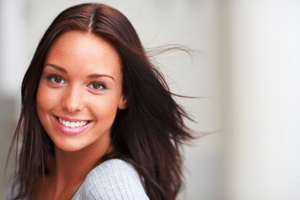 Do you long for a beautiful, bright smile, one that makes you feel confident every time you meet someone new, hear a great joke, or are out eating on a first date? If so, then you may be looking for a smile makeover. A smile makeover is a custom-designed combination of cosmetic dentistry procedures that targets your cosmetic goals.
This page will talk about some of the basics of smile makeovers and the combinations we offer, but the only way to get personalized recommendations is to schedule a consultation with Cherry Creek cosmetic dentist Dr. Jeff Johnston. To schedule your consultation, please contact Ascent Dental today.
A Customized Combination
Smile makeovers are designed to be as unique as every patient that comes into our Denver cosmetic dentist office. We draw from the full diversity of cosmetic dentistry procedures we offer to design a combination that helps you reach your specific cosmetic goals.
For example, if you desire an even, bright smile, but currently have one that has a gap between the front teeth and is discolored, we might recommend a combination of porcelain veneers to close the gap and tooth whitening to make your smile bright and youthful-looking.  If your teeth are discolored and all your front teeth are slightly crooked, tooth whitening and six-month smiles might be recommended. And if your teeth are not only crooked, but are discolored and have some damage or a few misshapen teeth, then you might benefit from a full set of porcelain veneers, which can whiten, straighten, and reshape teeth.
Another common request is replacing old, unattractive fillings, which we can do with porcelain inlays or onlays.


Why Ascent Dental for Your Smile Makeover
If you are considering a smile makeover, the cosmetic dentist you choose will make the largest impact on the quality of your results and on your overall dental experience. You need a dentist who can customize your procedure to match your goals, works to control cost while maintaining quality, and has a comfortable, convenient office.
Ascent Dental works hard to limit costs so you can get the best quality dental care you can afford. We are in-network for many insurance plans, where applicable, and we offer dental financing so you can get the smile you want today, instead of trying to save up first. And we back up all our restorations with our exclusive warranty. Our office is conveniently located to the entire Denver area in the Cherry Creek area, and is stocked with amenities that will make you feel right at home. Finally, our cosmetic dentist, Dr. Jeff Johnston, has a lifetime dedication to dentistry and is able to offer a unique combination of treatments that can help you reach your cosmetic goals. We invite you to schedule a consultation at our Denver cosmetic dentist office and see what he has to say about the best procedures for achieving your cosmetic goals.