Do you dream of a straighter smile? Come to Ascent Dental Group in Denver, CO, where our top-notch SureSmile Clear Aligners provider, Dr. Jeff Johnston, is ready to help you achieve your dream smile. Our team of committed professionals at Ascent Dental Group provides the best service possible and personalized care to help you achieve your oral health goals. Clear aligners have revolutionized the world of orthodontics, and SureSmile Clear Aligners have taken it a step further, offering you a more comfortable, practical, and faster route to your desired results.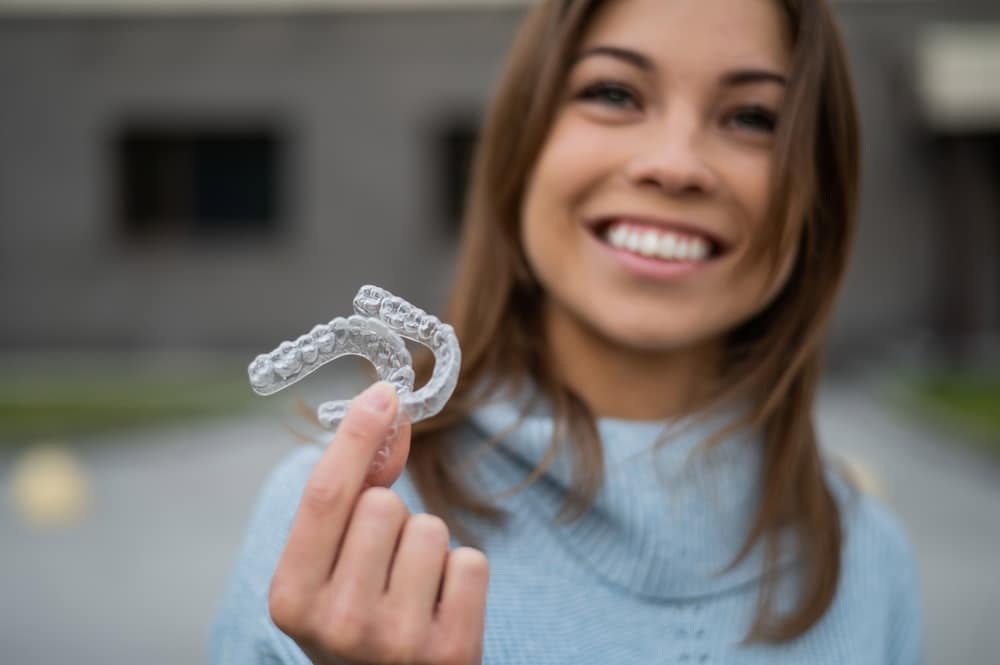 What are SureSmile Clear Aligners?
SureSmile Clear Aligners are an orthodontic treatment designed to correct the alignment of teeth without compromising a patient's appearance. SureSmile Clear Aligners are made of a clear, durable, medical-grade plastic material that sits snugly over the teeth and moves them into the desired position in a phased sequence. They are similar to traditional braces but without metal brackets, wires, and rubber bands. They are removable, which makes eating and cleaning more manageable than conventional braces. 
What are the Benefits of SureSmile Clear Aligners?
Discretion:

The aligners are nearly invisible, so they blend seamlessly with your teeth.

Comfort:

SureSmile Clear Aligners are made of smooth plastic that sits snugly over your teeth without causing any irritation or blisters.

Convenience:

The aligners are removable, so you can remove them when eating, brushing, or flossing.

Hygiene:

The aligners are easy to clean, and you can maintain your oral hygiene routine as you would without them.

Precise Results:

SureSmile Clear Aligners are custom-fitted to your teeth and designed with 3D imaging and proprietary software that guides their movement to achieve highly predictable results.

Efficient:

Our SureSmile Clear Aligners treatment plans can help you achieve the desired results faster than traditional braces.
Dr. Jeff Johnston's Expertise in SureSmile Clear Aligners
Ascent Dental Group's Dr. Jeff Johnston is a highly experienced and skilled dentist providing orthodontic treatments for years. Dr. Johnston's background in clear aligners began during his time at The University of Texas Health Science Center in San Antonio, where he studied the ins and outs of all things dentistry. He has since carried that experience to Ascent Dental Group, where he has been helping patients achieve their desired smiles using SureSmile Clear Aligners. 
Dr. Johnston is passionate about providing personalized care that considers each patient's specific needs. He understands that every patient is unique and that no two cases are the same. He takes the time to evaluate each patient's condition, listen to their concerns, and develop a personalized treatment plan that aligns with their goals. 
Process of Getting Clear Aligners
The first step is to schedule an initial consultation with Dr. Johnston, during which time he will assess your dental needs and determine if SureSmile Clear Aligners are the best solution for you. Once you proceed with SureSmile Clear Aligners, Dr. Johnston will take pictures, X-rays, and digital impressions of your teeth. We then send this information to a SureSmile lab, where specialized software will create a 3D model of the patient's teeth. Dr. Johnston reviews this model to ensure it is accurate and makes any necessary adjustments. Once you approve the treatment plan, the manufacturing process begins.
The aligners are manufactured using 3D printing technology and are usually produced within a matter of weeks. You will receive several sets of aligners and wear each set for a specific period before switching to the next stage. Throughout the treatment process, Dr. Johnston will monitor the patient's progress to ensure it is proceeding as expected. At the end of the treatment, you will leave with a beautifully aligned smile.
Why Choose Ascent Dental Group for Your SureSmile Clear Aligners?
Choosing Ascent Dental Group for your orthodontic care and SureSmile Clear Aligners gives you access to a team of highly qualified professionals dedicated to meeting your every need. 
Our staff is friendly, welcoming, and ready to assist you. You deserve a comfortable and welcoming environment that puts you at ease during your dental appointment. 
Ascent Dental Group is committed to providing top-quality care for our patients. We only use advanced dental technology to ensure the best possible outcome for your oral health needs. 
SureSmile Clear Aligners in Denver
SureSmile Clear Aligners with Ascent Dental Group in Denver, CO, is a choice you won't regret. You'll enjoy the freedom of a comfortable, nearly invisible, removable option that can help you achieve your dream smile. Give us a call today to schedule your consultation, and let's work together to get you the smile you deserve.